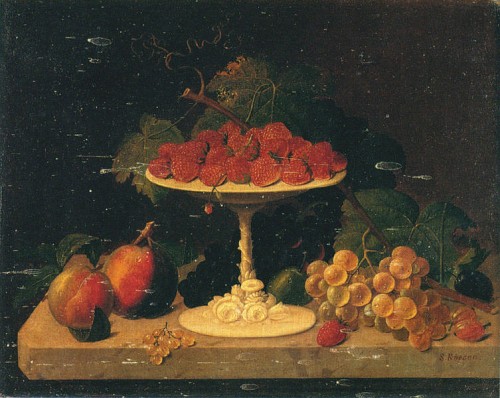 Severin Rosen,
Still Life with Strawberries
, (c. 1848-1870)
Summer Cold Strawberry Soup
2 qt. strawberries, hulled and pureed, reserve a few for garnish
Combine water, wine, sugar, lemon juice and cinnamon stick in a 5-quart saucepan. Boil, uncovered, about 17 minutes, stirring constantly. Add strawberry puree and continue boiling, stirring frequently. Discard cinnamon stick and cool cooked mixture. Whip cream and stir in sour cream. Fold into strawberry mixture. Refrigerate several hours. When ready to serve, garnish with reserved whole strawberries. This recipe makes about 8 cups.